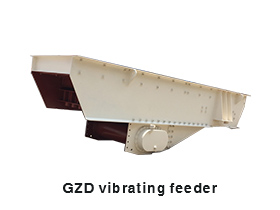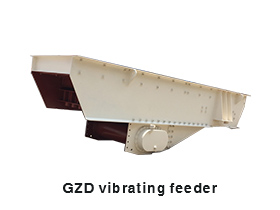 GZD Vibrating Feeder
Feed particle size11-37(kW).
Processing capacity80-800tph.
Applicable materialscreening plant in the field of mineralprocessing..
Sell Hot: South Africa, Nigeria, Kenya,Mexico, Uzbekistan, Chile, Tanzania, Peru, Brunei, Brazil, Iran, Philippines, Malaysia, Vietnam, Pakistan, India, Russia, Venezuela, USA, etc.
Major benefits ! ! ! Buy GZD Vibrating Feeder and
free delivery this machine related parts!
GZG series self-synchronizing inertial grizzly feeder can feed lump granular materials from storage silo or hopperuniformly and continuously or quantitatively into the feeding devce and protect the subject material device from materalattack and in this way it can safeguard the feeding device, It can deliver materials to the crusher continuously anduniformly, so it can effectively improve the capacity and continuous working ability of the crusher. Products of this seriesare widely used on crushing and screening equipment in the field of mineral processing, building materials, waterconservancy, chemical industry. They are responsible to provide stable and continuous feeding work for impact crushecone crusher and other crushing equipment. They also can teed and blend to the crushing, filtering, screening,transportation, packagines and so on.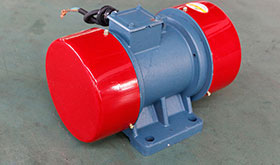 Vibrator motor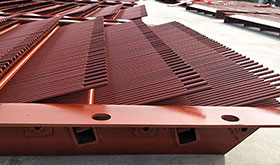 Rod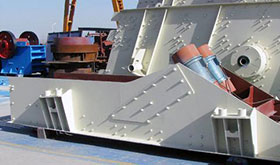 Consignment

1.Small size, light weight, simple and compact structure;
2.Convenient installation and maintenance;
3.High efficiency, low power consumption;
4.Low noise, environmental-friendly;
5.Strengthen the exciter structure, and the stability ofequipment operation;
6.Equipped with manganese steel lining plate, canprotect the body effectively.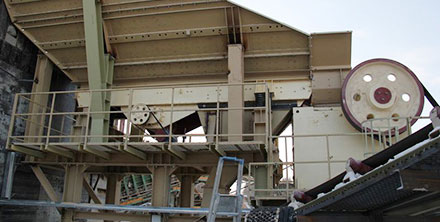 Parameters

Model
Hopper size (mm)
Max. feeding size (mm)
Capacity (tph)
Obiquity of material trough (°)
Power (kW)
Total weight (t)
Overall dimensions(L*W*H) (mm)
GZD-650X2300
650x2300
300
80
10
1.1X2
2.79
2300x1360x780
GZD-750X2500
750x2500
350
100
10
1.1X2
3.26
2500x1460x780
GZD-850X3000
850x3000
400
120
10
3X2
3.6
3110x1800x1600
GZD-1000X3600
1000X3600
500
150
10
5.5X2
3.89
3850x1950x1630
GZD-1100X4200
1100X4200
580
240
10
5.5X2
4.17
4400x2050x1660
GZD-1300X4900
1300X4900
650
450
10
7.5X2
5.2
5200x2350x1750
GZD-1500X5600
1500X5600
1050
450-800
10
11X2
7.5
5700x2000x1750
Principle
ZSW linear vibrting feeder consists of the groove, exciter, spring support base, transmission device and so on. The exciter is the vibration source. The exciter is made up of two eccentric shafts (one is the driving shaft, the other is driven shaft) and a gear pair. The motor drives the driving shaft through the V-belt, and the driving shaft drives the driven shaft. The driving shaft and driven shaft rotate conversely at the same time to vibrate the groove. The materials in the groove move forward to achieve the result of feeding. GZD Series vibrating feeder adopts double vibrating motor to vibrate the groove to feed materials to the crusher.
Relate:
Heavy hammer crusher
,
Belt Conveyor
,
River stone sand making machine
,
Mobile screening plant
,
Conveyor belt
,
Circular Vibrating Screen
,
Hammer Crusher
,
Sand washing & recycling machine
,
Single spiral sand washing machine
,
limestone Mobile screener
,
GZD Vibrating Feeder
,
Mobile impact crusher
,
Bucket Wheel Sand Washer
,
mobile cone crusher
,
Granite production line
,
Hydraulic Cone Crusher
,
Vertical Shaft Impact Crusher
,
Stone powder sand washing machine
,
VSI sand making machine
,
Impact Crusher
,
Fine sand recycling machine
,
Sand production line
,
Spiral sand washer
,
Mobile Screener
,
Vibrating feeder
,
Jaw Crusher
,
Sand making machine
,
Dolomite sand making machine
,
Basalt sand making machine
,
HVI sand making machine
,
Trommel Screen
,
Mobile sand making machine
,
Double spiral sand washer
,
Symons Cone Crusher
,
Mobile crushing station
,
Send Enquiry
write down your requirement and contact details in the following form to get the latest price of this product within one day!
Hot Product
Pursuit of excellence, innovation is not limited!