Impact Crusher
Feed particle size35-710(kW).
Processing capacity5-800tph.
Applicable materialVarious mineral ores and rockswhich anti-pressure do not exceed 320Mpa. .
Sell Hot: South Africa, Nigeria, Kenya,Mexico, Uzbekistan, Chile, Tanzania, Peru, Brunei, Brazil, Iran, Philippines, Malaysia, Vietnam, Pakistan, India, Russia, Venezuela, USA, etc.
Major benefits ! ! ! Buy Impact Crusher and
free delivery this machine related parts!
Impact crusher is mainly used to crush many kinds of large, medium, small hard size materials with compression resistance no more than 350Mpa,in the fields of highway, reservoir, railway, airport and other fields that need rock with cubic shape. It features in high capacity, high performance, high reduction ratio, cubic shape and low flakiness. The single rotor impact crusher has the characteristics of simple structure, big reduction ratio, low energy consumption,high output,light weight , cubic physique end product. it can supply the uses of industry sectors such as dressing, chemistry, cement, building, fire-proof material, ceramics, glass to use in hitting garrulous and each kind of medium degree of hardness using of in broken bits material, for example: Limestone, chamotte, slag, coke, coal and so on. Compare to hammer crusher,impact crusher has bigger reduction ratio and Can fully use the high speed impact energy of entire rotor.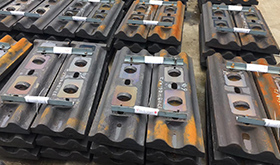 Liner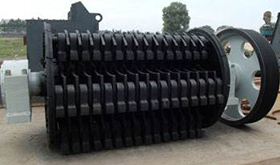 Rotor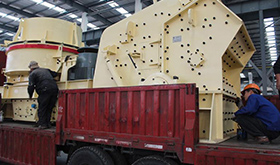 Consignment
CFTC Impact Crusher has these advantages:
1.Uniformly broken multi-cavity, improving production capacity and saving energy;
2.High chromium new type wear-resistant blow bar, unique toothed impact plate;
3.Shape optimizing function makes the final product cubic;
4.New Design of low speed and multiple crushing cavities sets the rotary speed down by 20-25% and obtain high production capacity under lower energy consumption.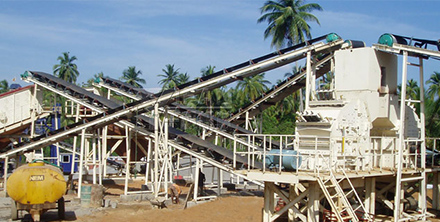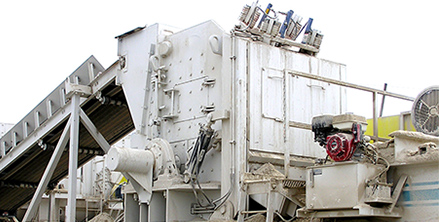 Parameters
Model

Specification
(mm)

Feed opening
(mm)

Max. feeding size
(mm)

Capacity
(tph)

Power
(kW)

Weight
(t)
PF-1007
Φ1000×700
400X730
250
20-70
37-55
9
PF-1010
Φ1000X1050
400X1080
300
50-90
55-75
15
PF-1210
Φ1250X105
400X1080
300
70-130
110
17
PF-1214
Φ1250X1400
400X1430
300
100-180
132
22
PF-1315
Φ1320X1500
860X1520
350
130-250
200
26
PF-1520
Φ1500X2000
960X2020
700
300-500
400-440
45
PF-1820
Φ1800X2000
1600X2020
700
500-700
630-710
65
Principle
The impact crusher is a crushing machine that uses impact energy to break up materials. When the machine is working, the rotor rotates at a high speed under the driving of the motor. When the material enters the action area of the hammer, it collides with the hammer on the rotor, and then is thrown to the counter-attack device to break again, and then rebounds from the counter-attack. Returning to the hammer action zone, the process is repeated. The process is repeated from large to small, and the first, second and third counter-attack chambers are repeatedly crushed until the material is crushed to the required particle size. The stone is discharged from the discharge port directly from the upper part of the machine. Falling into a high-speed rotating turntable; under the action of high-speed centrifugal force, another part of the flying stone that is shunted around the turntable in the form of an umbrella produces high-speed collision and high-density crushing. After the stones hit each other, they will be in the turntable and the casing. The vortex motion is formed between them to cause multiple blows and smashes.
Relate:
Sand production line
,
VSI sand making machine
,
Sand washing & recycling machine
,
Conveyor belt
,
mobile cone crusher
,
Mobile Screener
,
GZD Vibrating Feeder
,
Vertical Shaft Impact Crusher
,
Hammer Crusher
,
Jaw Crusher
,
Spiral sand washer
,
Bucket Wheel Sand Washer
,
Heavy hammer crusher
,
Mobile crushing station
,
Mobile impact crusher
,
Basalt sand making machine
,
Mobile sand making machine
,
Belt Conveyor
,
Circular Vibrating Screen
,
Single spiral sand washing machine
,
HVI sand making machine
,
River stone sand making machine
,
limestone Mobile screener
,
Dolomite sand making machine
,
Mobile screening plant
,
Double spiral sand washer
,
Granite production line
,
Impact Crusher
,
Fine sand recycling machine
,
Stone powder sand washing machine
,
Sand making machine
,
Trommel Screen
,
Hydraulic Cone Crusher
,
Vibrating feeder
,
Symons Cone Crusher
,
Send Enquiry
write down your requirement and contact details in the following form to get the latest price of this product within one day!
Hot Product
Pursuit of excellence, innovation is not limited!