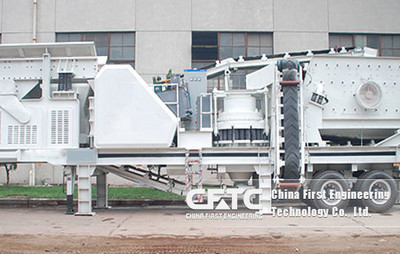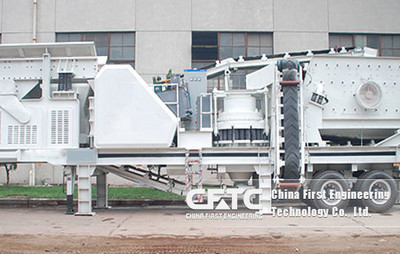 mobile cone crusher
Feed particle size160-240mm.
Processing capacity40-390t/h.
Applicable materialLimestone, granite, sand gravel, sandstone, construction waste, coal, concrete, iron ore, quartz, artificial sand, brick and tile, dolomite, coal gangue, basalt, etc..
Sell Hot: South Africa, Nigeria, Kenya,Mexico, Uzbekistan, Chile, Tanzania, Peru, Brunei, Brazil, Iran, Philippines, Malaysia, Vietnam, Pakistan, India, Russia, Venezuela, USA, etc.
Major benefits ! ! ! Buy mobile cone crusher and
free delivery this machine related parts!
The mobile cone crusher is mainly used for the processing of materials that require frequent moving operations, such as chemical industry, building materials, hydropower, etc., especially in roads, railways, etc., users can use a variety of configurations according to different requirements of finished materials. Work in the form.
Mobile cone crusher is suitable for processing all kinds of hard materials, such as limestone, bluestone, granite, river pebble, limestone, basalt, etc. For different materials, it can be used with different series of cone crushers. It has strong applicability and production efficiency. high.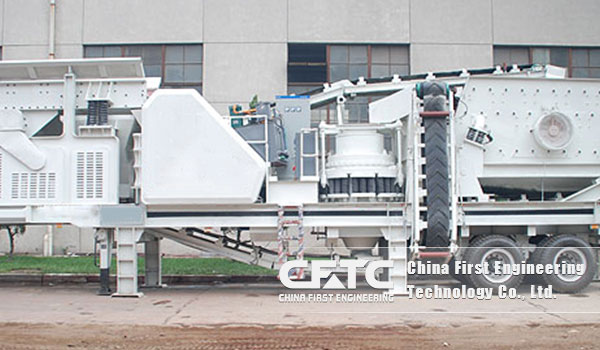 Performance advantages:
1 good mobile performance
You can go directly to the site to work, even the rugged road moving cone crusher can move freely
2 compact and easy to use
The integrated vehicle-mounted complete equipment greatly reduces the floor space, and is equipped with generator sets, electric motors and control boxes. It is very suitable for outdoor work, safe and reliable, and enters the venue very fast.
3 cost savings, reduce costs
The material can be crushed on site without the need to move the material, saving the transportation cost of the material for the customer.
4 applicability
It can be operated independently, and the crushing and screening system is set up to carry out coarse, medium and fine crushing of materials. The applicability is very strong.
5 stable performance and easy operation
It makes the operation more stable, the maintenance is more convenient, and has the advantages of simple operation, low return on investment, good performance, etc.
6 configuration flexibility
Reasonable configuration of the mobile cone crusher to meet the needs of customers and provide customers with more reasonable production equipment to increase production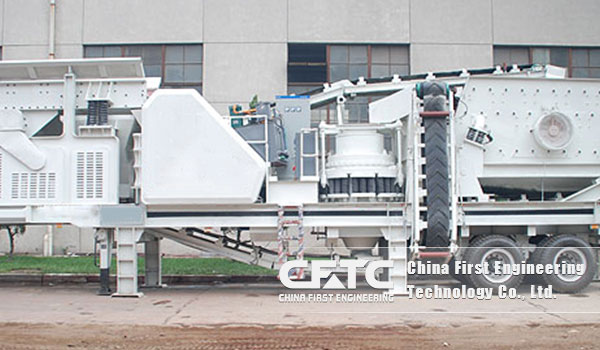 Both in rock stone crushing and mineral ore crushing industry, mobile cone crusher is becoming more and more popular. The portable cone crusher or mobile cone crusher plant is widely used in the industries of mine crushing, construction waste recycling, construction aggregate production, and highway, railway and bridge construction,etc.
Parameters
| | | | | | | | |
| --- | --- | --- | --- | --- | --- | --- | --- |
| type | Vibrating screen | Cone crusher | Belt conveyor | capacity(t/h) | power(kw) | size(mm) | weight(t) |
| Y3S1548Y900 | 3YZS1548 | PYB900 | B500×7M | 50-200 | 75 | 13000×2800×6400 | 43 |
| Y3S1848S36 | 3YZS1848 | ZYS36 | B650×7M | 70-300 | 99-134 | 13000×3000×6700 | 47 |
| Y3S1860S51 | 3YZS1860 | ZYS51 | B650×8M | 120-400 | 212.5-220.5 | 14000×3000×6700 | 53 |
| Y3S2160H220 | 3YZS2160 | HP220 | B800×8M | 140-450 | 257.5-264.5 | 14000×3200×6700 | 58 |
Principle
The mobile cone crusher is mainly used in the field of fine crushing. In the production of sand and gravel, according to different stone and finished products, the mobile cone crusher replaces the impact crusher to produce sandstone products with higher hardness and finer grain size. . The cone crusher can be adjusted to different crushing chamber types according to actual needs, and the use field and scope of use of the medium crushing cone breaking mobile crushing station are expanded.
The material is evenly conveyed into the cone through the feeder, and after the cone crusher is initially crushed, the closed circuit system is formed by the circular vibrating screen to realize the cyclic crushing of the material, and the finished material is output by the belt conveyor for continuous crushing operation. The conical mobile crushing station can remove the circular vibrating screen according to the actual production needs, and realize the direct crushing of the material directly. It is convenient and flexible to operate with other crushing equipment.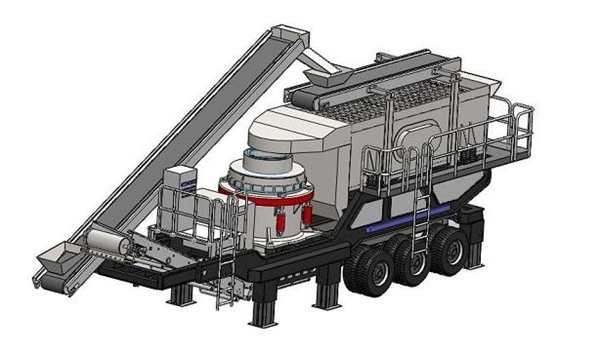 Relate:
Mobile sand making machine
,
Hammer Crusher
,
Vibrating feeder
,
Heavy hammer crusher
,
Spiral sand washer
,
Basalt sand making machine
,
Circular Vibrating Screen
,
GZD Vibrating Feeder
,
Hydraulic Cone Crusher
,
Vertical Shaft Impact Crusher
,
Conveyor belt
,
Dolomite sand making machine
,
Jaw Crusher
,
HVI sand making machine
,
limestone Mobile screener
,
River stone sand making machine
,
Double spiral sand washer
,
Single spiral sand washing machine
,
Granite production line
,
Bucket Wheel Sand Washer
,
Stone powder sand washing machine
,
Sand production line
,
Impact Crusher
,
Fine sand recycling machine
,
Mobile screening plant
,
VSI sand making machine
,
Mobile impact crusher
,
Mobile crushing station
,
Symons Cone Crusher
,
Mobile Screener
,
Belt Conveyor
,
Trommel Screen
,
mobile cone crusher
,
Sand washing & recycling machine
,
Sand making machine
,
Send Enquiry
write down your requirement and contact details in the following form to get the latest price of this product within one day!
Hot Product
Pursuit of excellence, innovation is not limited!