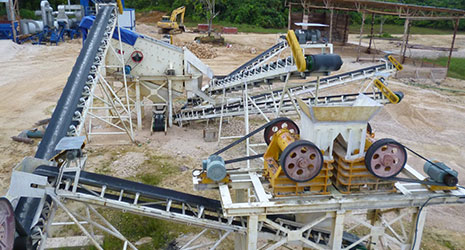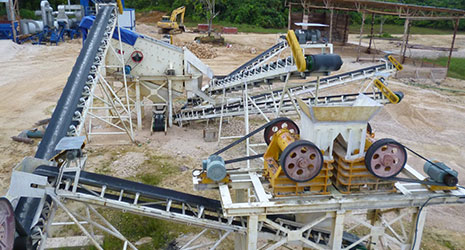 Gold mining production plant
What can help you, fill out the form below and submit, we will get back to you as soon as possible.
There are two main types of ore used in the gold mine production line process: one is flotation gold concentrate or amalgamation, re-election tailings, and the other is muddy oxidized ore.
Part I
The gold mine production line means that the gold mines are generally crushed by the beneficiation equipment (crusher equipment: jaw crusher), then into the gold ore beneficiation equipment (high-efficiency energy-saving ball mill), and then processed by a classifier mixing tank chute flotation machine. Through re-election and flotation, the concentrate and tailings are extracted, and then the mineral processing agent is applied to the chemical process, and finally, after smelting, the product finally becomes the process of finished gold.
Flotation method has always been an effective method for treating gold ore and metal sulfide ore. The flotation characteristics of gold ore can be summarized as follows:

(1) Gold ore washing equipment, gold mining production line, gold ore dressing plant equipment Mainly used to deal with common types of vein gold ore, but rarely applied to gold deposits. However, it should be pointed out that in the 1920s, there was a flotation treatment of gold concentrate re-election concentrate, which achieved good results and was later left out. In recent years, the flotation of gold has re-emerged a certain degree of attention. Therefore, the traditional concept of no gold flotation should be broken.

The flotation of vein gold ore still occupies a dominant position in China. Most of the gold selection plants in the country use a combination of single flotation or flotation and other methods of metallurgy. Although in recent years, chemical gold extraction methods such as heap leaching and full mud cyanidation have been widely used to deal with some low grades, muds, oxidations, etc., but from the perspective of gold selection, flotation The law will continue to work. In addition to the treatment of gold-bearing ores, the use of flotation to treat the old tails of the stocks has been successfully applied.

(2) Flotation is suitable for the processing of gold ore impregnated with fine particles. The coarse gold is usually recovered by mercury or re-election. The fine gold is suitable for recovery by chemical gold extraction such as cyanidation. Characteristics and the properties of associated metal minerals are a reasonable approach to the combination of flotation and other methods of metallurgy.

(3) Flotation method is suitable for the treatment of gold-bearing sulfide ore, but it is still difficult to float high-arsenic, high-sulfur, fine-grain gold and multi-metal gold-bearing ore. For the muddy, high degree of oxidation, it is not easy to use flotation.

(4) The process conditions of float gold (pharmaceuticals, processes, equipment) are similar in the flotation conditions of the Yaojiu sulphide ore, especially the copper sulphide ore. Generally, the flotation process of gold-bearing quartz veins is relatively simple, which is particularly beneficial for local construction of small gold selection plants.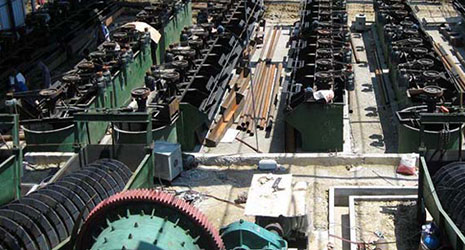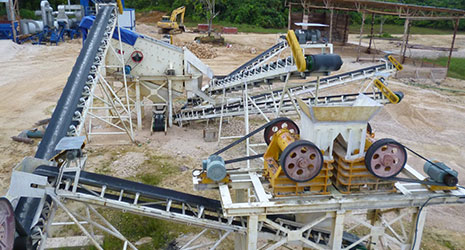 Part II
Gold Flotation Production Lin
Flotation is a method that is widely used in gold ore processing plant to process the rock gold ,commonly used in dealing with highly floatable sulfide minerals containing gold ore. Flotation process can maximum enrich gold to the sulfide mineral , tailings can be abandoned directly , the cost of processing plant is low, 80% of China's rock gold are used in this method. Flotation process that mainly including dosing, mixing, filling, blowing foam etc.
CFTC is equipped with 10-5000T gold ore washing equipment, gold mining production line, gold ore dressing plant equipment, and can provide customers with gold ore dressing workshop equipment configuration, process design, concentrating plant planning and design, free installation and commissioning equipment, etc. service.. The main products are: jaw crusher, hammer crusher, roller crusher, impact crusher, high efficiency energy saving cone ball mill, roller bearing ball mill, high thin tube ball mill, ceramic ball mill, spiral splitter, flotation machine Mine mining tanks, feeders, thickeners, mining lifts, conveyors and other mining machinery and equipment. Our company's complete sets of mineral processing equipment are exported to North Korea, Myanmar, Vietnam, Venezuela, Brazil, Kazakhstan and other countries, and are well received by users.
Relate:
Sand washing & recycling machine
,
Basalt sand making machine
,
Sand making machine
,
Heavy hammer crusher
,
Vertical Shaft Impact Crusher
,
Mobile impact crusher
,
Vibrating feeder
,
Circular Vibrating Screen
,
Fine sand recycling machine
,
Hydraulic Cone Crusher
,
Belt Conveyor
,
Sand production line
,
Granite production line
,
River stone sand making machine
,
Hammer Crusher
,
Jaw Crusher
,
Single spiral sand washing machine
,
Symons Cone Crusher
,
GZD Vibrating Feeder
,
mobile cone crusher
,
VSI sand making machine
,
Mobile crushing station
,
Mobile screening plant
,
limestone Mobile screener
,
Impact Crusher
,
Conveyor belt
,
Mobile Screener
,
Double spiral sand washer
,
Mobile sand making machine
,
Bucket Wheel Sand Washer
,
HVI sand making machine
,
Stone powder sand washing machine
,
Spiral sand washer
,
Dolomite sand making machine
,
Trommel Screen
,
Send Enquiry
write down your requirement and contact details in the following form to get the latest price of this product within one day!
Hot Product
Pursuit of excellence, innovation is not limited!